Stainless Steel Sheet Suppliers in Czechia, SS Plates and Coils in Prague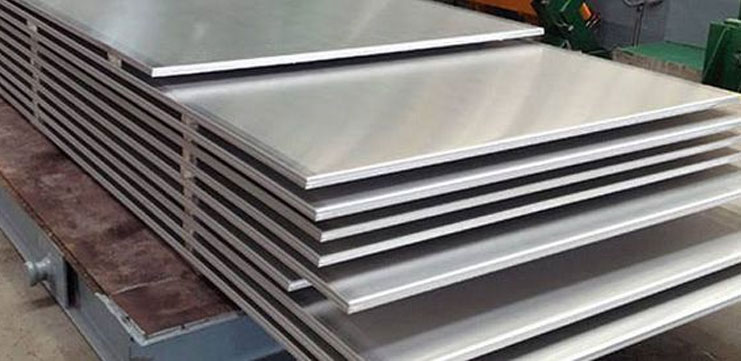 High Quality Exporters of Steel Sheet, Plate, and Coil in Stainless Steel, Carbon Steel, Alloy Steel, Inconel, Monel, Hastelloy, Nickel Alloys, Duplex, Super Duplex, Titanium, Alloy 20, 254 SMO in Prague Czechia.
Largest Suppliers of HR Plate, Diamond Plate, CR Plate, Shim Sheet, 2B Finish Sheet, Perforated Sheet, Hot Rolled Plates, Plate 2R (BA) Finish, Checker Plate, Hairline Plate, BA Surface Finish Plate, Cold Rolled Plates, GB Plate, Sheet & Coil, DIN Plate, Sheet & Coil, IS Plate, Sheet & Coil, Manganese Steel Plate, Quenched and Tempered Steel Plate, Abrasion Resistant Steel Plate Sheet Coils, Weather Resistant Plate Sheet Coils in Czechia.
Aakash Steel is a leading Supplier, and Exporters of Steel Sheets, Plates, and Coils available in factory finish sheets, stucco sheets, 5 bar tread plates, and propeller pattern threadbare plates. All our Stainless Steel 904L Sheets products can be custom cut to size and are available for immediate dispatch. Excellent weld capability, form ability, with good erosion resistance make Sheets, Plates, and Coils a popular and provident choice. Steel Sheets, Plates, and Coils have a smooth,semi-shiny finish and are popular for numerous applications.
In construction work, perforated Steel Sheets, Plates, and Coils are suitable for ceilings, self-protective boards, wall structures, and sight walls. A perforated sheet can be used to execute, for example, impressive terrace rails as well as lighting and facade solutions. We can also produce varied solutions suitable for facades using perforated sheets.
Steel Sheets, Plates, Coil Specification in Czechia
Standards
ASTM, AISI, DIN, EN, GB, JIS
EN 10088-2: 2005 Stainless steels. Technical delivery conditions for sheet/plate/Coil and strip of corrosion resisting steels for general purposes
Type
Plate/Sheet/Coil/Strip
Finish
Hot rolled plate (HR), Cold rolled sheet (CR), 2B, 2D, BA NO(8), SATIN (Met with Plastic Coated)
Thickness

4mm-100mm

0.4mm to 3mm (Cold Rolled process)
3mm to 35mm (hot rolled process)

Length
2000mm, 2440mm, 3000mm, 5800mm, 6000mm, etc
Width
1000mm, 1219mm, 1500mm, 1800mm, 2000mm, 2500mm, 3000mm, 3500mm, etc
Hardness
Soft, Hard, Half Hard, Quarter Hard, Spring Hard.
Surface
2B, 2D, BA, NO. 1, NO. 4, NO. 8, 8K, brush, embossed, chequered, sand blast, mirror, etching, hair line
Form
Perforated Sheet, Chequered Plate, Coils, Foils, Rolls, Plain Sheet, Shim Sheet, Strip, Flats, Blank (Circle), Ring (Flange).
Process
Hot Rolled, Cold Rolled
Available Stock
Shim Sheet, hot rolled, cold rolled, Plate, Sheet, Coils, Foils, Rolls, Plain Sheet, Strip, Flats, Clad Plate, Rolling Sheet, Flat Sheet, Rolling Plate, Flat Shim, Blank (Circle),annealed, soft annealed, descaled, sheared, tread plate, Checker Plate
Value Added Service
Polish, Rolling, Cutting, Bending, Forging, Cladding, Heat Treatment, Annealed, Pickling, Minor Fabrication.
Available Products of Steel Sheet / Plate / Coil in Czechia
We Export Steel Sheet, Plate, and Coil on Prime Locations in Czechia
Prague
Brno
Ostrava
Plzen
Liberec
Olomouc

Pardubice
Zlín
Havírov
Kladno
Most
Opava

Jihlava
Karviná
Teplice
Chomutov
Trinec
Mladá Boleslav
Industries We Supply Steel Plate, Sheet & Coils in Czechia